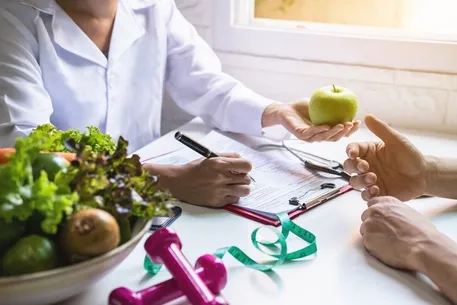 Decades of studies worldwide have made it abundantly clear that obesity is a multifaceted and complex metabolic, medical, and oftentimes, mental health condition that requires evidence-based and long-term treatment. Without sustained and effective treatment, chances are that it will worsen instead of getting better.
Fad diets and crash diets rarely offer lasting and safe benefits, as evidenced by millions of people who've struggled with obesity, lost weight, and only to regain it again and again. If this sounds familiar to you, you're not alone, and help is available. Here at Haksha Healthcare S.C., we offer professional clinical weight management programs administered by our weight loss physician, Dr. Kshama Keshava Bhat.
What Does a Weight Loss Physician Do?
A weight loss physician supervises weight management and/or weight loss programs for individuals who are significantly overweight or obese. However, clinical weight management and loss programs require team effort, this means that weight loss physicians usually work with other healthcare professionals such as physician assistants, nurses, registered dietitians, and behavioral therapists. These programs typically include physical activity and nutrition counseling, weight loss medicines, and behavioral therapy among others.
Why The Battle Against Obesity Isn't Simple
A myriad of issues have caused the obesity epidemic, this is why successful treatment will require a thorough understanding of the problems' root causes in each individual. Cultural influence, genetics, childhood trauma, food industry marketing, chronic pain, certain medications, and medical diseases are just some of the various factors that could result in severe weight issues. Keep in mind that every single individual has their own reasons and stories for their weight struggles.
Effective and Long-Lasting Weight Loss Starts with an Accurate Evaluation
Rather than just promoting a standard diet and exercise plan, we will evaluate your specific case to ensure that your weight management program will be tailor-fitted to your exact requirements. Medical problems related to unwanted weight gain will be thoroughly assessed and medications that cause weight gain will be identified. Additionally, as you progress into your customized program, common issues that interfere with successful weight loss and management including food addiction, depression, anxiety, and excessive stress among others, will be directed towards specific programs that will help you overcome these issues.
If you need more information on our weight management programs, book your appointment with Dr. Kshama Keshava Bhat here at Haksha Healthcare S.C., Brookfield, WI, by dialing (262) 439-9544.